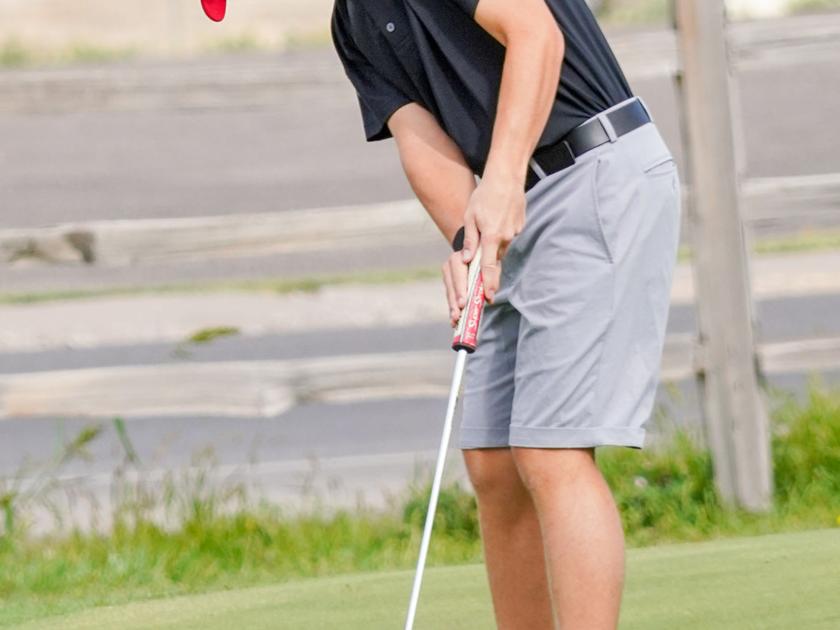 The Montrose High School golf team has seemingly picked up where it left off from last season's state golf tournament. into day one of this year's competition on Monday. 
The Indians – last year's state champions –  are sitting in first place as a team after day one of this year's state competition Monday. Individually, Micah Stangbye sits alone at the top after day one of two at the 72-par Flying Horse Golf Course in Colorado Springs. 
Montrose is in the lead, shooting 5-over par for a 221. The team is eight strokes ahead of second-place Steamboat Springs (229) and is shooting 13 better than third-place Palmer Ridge (234). 
"Going into tomorrow with an eight-shot lead is nice to have," coach Dave Woodruff said of the first round results. "The kids just have to be more relaxed and play what they are capable of."
Stangebye is the only golfer at state who recorded a round under par as he shot a 69. His round would have actually been even better if he didn't have one bad shot on hole No. five which led to a double bogey, said Woodruff. 
Regardless, Stangebye still posted a 3-under, recording six birdies and a bogey.
"It was a great round by Micah," Woodruff said. "Micah, all year long, has been steady for us."
Stangebye has a four-stroke lead over Northridge golfer Traejan Andrews, Ponderosa's Mac Konrad and Steamboat Springs' Jake Rotermund. 
Ryan Lords posted the second-best score for Montrose with a 74 and a tie for fifth place. He's even with Mead golfers Kellen Kudrna and TJ Shehee. Despite shooting 2-over on the front nine, the Indian golfer carded an even round on the final nine holes. He had three birdies on the day. 
"Ryan stayed calm and it was really nice to see him put a round together for 18 holes," Woodruff said. "
Dawson Hussong shot 6-over-par for a 78 and a tie for 19th place with Elijah Harp of Palmer Ridge, Frederick's Jake Chesler, Conifer's Dakota Dolph and Windsor's Mitchell Rasmuson.
Hussong didn't have the strongest start to his day but battled back toward the end of his round. He shot 7-over on the front nine, recording a pair of double bogeys on holes three and seven. 
The back nine turned out to be completely different for Hussong. He started it by making eagle on hole No. 10 before a birdie on 12. He wound up bogeying twice but shot 1-under on the final nine holes.  
Woodruff said he was amazed at how Hussong settled into the day, explaining some state jitters got to the whole team.
Jordan Jennings didn't have his best round, shooting 8-over for an 80. He four birdies, but carded four bogeys, one double and a triple. He's tied with Silver Creek golfer Garrett Stansel. 
"Jordan just had a bad day," Woodruff said. "That's golf. Somedays you just swing off a little bit and things can happen."
The state competition concludes today.