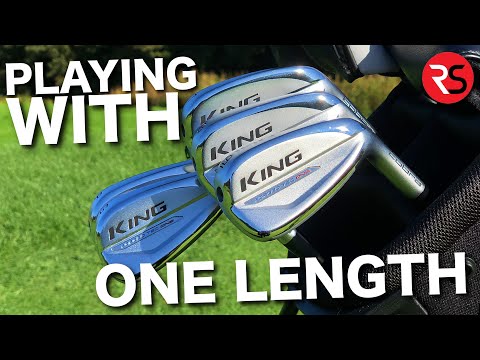 Playing golf with COBRA FORGED TEC "ONE LENGTH" irons!
In this video Rick Shiels PGA Golf Professional review the brand new Cobra Golf KING Forged Tec irons.
Several golf brands have released irons with a hollow head construction over the past 12 months including; TaylorMade Golf P790 irons, Titleist Golf TMB irons, Callaway Golf Epic Forged Irons, Ping Golf I500 irons, Mizuno Golf MP20 HMB irons, PXG Golf 0311 irons and now Cobra Golf have brought their own hollow head iron to the market.
Rick reviews the Cobra KING Forged Tec irons and then he plays golf with the Cobra KING Forged Tec ONE LENGTH irons. Byrson DeChambeau plays on The PGA Tour, The European Tour and the Golf Majors using ONE LENGTH irons but will using one length irons help to lower your score?
►Become a FREE SUBSCRIBER to RICK SHIELS now
http://bit.ly/SubRickShielsGolf
► Official Apparel and footwear partner: Nike Golf
http://www.nike.com/golf
►Official Garmin Ambassador:
https://explore.garmin.com/en-GB/golf/
► Hit #Subscribe & #HitTheBell so you don't miss out on any new videos!
———————————————————————————–
►My Links:
Facebook ► http://bit.ly/RickShielsFB
Twitter ► http://bit.ly/RickShielsTwitter
Instagram ► http://bit.ly/RickShielsIG
Web ► http://www.rickshielsgolf.co.uk/
———————————————————————————
Hi I'm Rick Shiels, welcome to my channel RickShielsPGAGolf. This YouTube channel is designed to help you play better golf, also to help you enjoy your golf more!
I specialise in golf club reviews, golf club unboxing, golf club news, golf club head to heads, and all about golf clubs.
I also want to make you play better golf by providing coaching video on all topics about golf, how to fix your slice, fix your hook, help you drive the golf ball longer, hit your irons more pure, hit your irons closer to the hole and help you draw and fade your golf shots.
I will also help you lower your score by chipping better by stopping you duff and thin chips, pitch the ball closer and also create backspin. Also I will provide you help to putt better and hole more putts!
On this channel I also make fun and entertaining golf content based on crazy and sometimes "gimmicky" golf clubs. I like to cut through the marketing hype about products and I like to give you the honest truth about golf equipment.
If you enjoy the channel make sure you hit subscribe and also tap the notification bell so that you are always notified when I release a new video.